What's New in EDU: New Learning Tools, Office and OneNote updates to inspire your inclusive classroom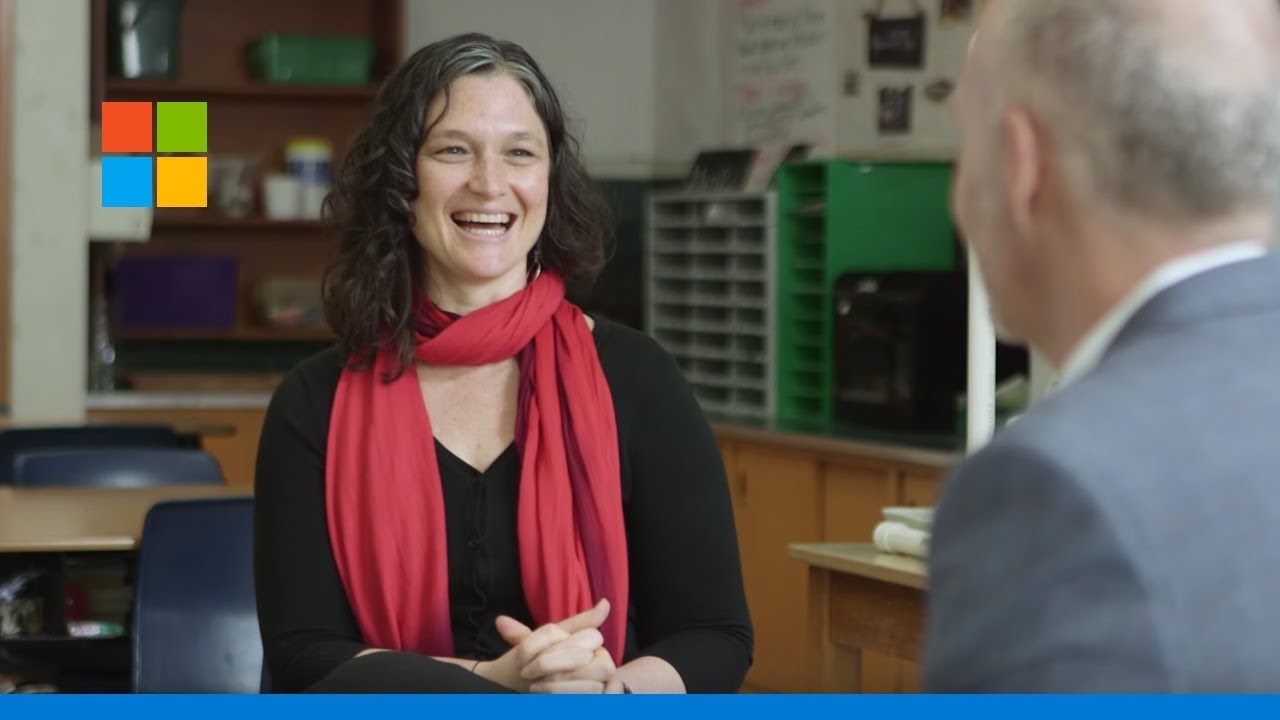 In the wake of Global Accessibility Awareness Day, we're dedicating our latest episode of What's New in EDU to the educators working so hard to give students confidence, comfort and control of their own learning. And while making your classroom inclusive is a good for all, you don't have to do it all by yourself.
This month, our round-up of the latest efforts and products from Microsoft Education will help you catch up on a big range of useful, time-saving tools that have been built and evolved with inclusivity in mind. Whether it's checking documents for accessibility or having them read out loud, the updates below can help you ensure that your learning materials are accessible to everyone.
In addition, we're sharing a lesson for Minecraft: Education Edition inspired by a classic author, new ways to post assignments through Teams, and the latest in 3D learning with Windows 10.
If you're an educator:
Learning Tools are free tools that implement proven techniques to improve reading and writing for learners regardless of their age or ability. They are available in the products you already use in the classroom – Word, Word Online, OneNote, OneNote Online, Outlook Online, and Microsoft Edge – and in more than 45 languages.
Syllables and Parts of Speech for Microsoft Edge: Immersive reader is continuing to expand availability with Syllables and Parts of Speech for Microsoft Edge Reading View and ePub, making it available across the tools teachers and students use.
Picture Dictionary: We're adding thousands of new words to Picture Dictionary and beginning to roll out more languages including Spanish, French, and German – allowing Picture Dictionary to assist even more students.
Immersive Reader for Word and OneNote on Mac: Immersive reader is continuing to expand availability on Word and OneNote Mac so that it is available across the tools teachers and students use.
Microsoft Teams is the digital hub that brings conversations, content, assignments, and apps together in one place. Educators can create collaborative classrooms, connect in professional learning communities, and communicate with school staff – all from a single experience in Office 365 Education.
Read the full update on our Education Tech community here.
Share assignments to individual students: Now teachers can post assignments to individuals, small groups, or the full class. Tailor assignments to each individual in your diverse classroom of learning styles and academic abilities.
Schedule to post assignments: Share learning activities with students at the exact time they need it. Now you can schedule to post your assignment in advance.
Provide continuous and personalized feedback: Teachers can now provide iterative, personalized, and actionable feedback while students are working on their assignments. Assignment submissions can now be resubmitted and continuously improved – even after the teacher leaves feedback.
Rich text editing for assignment instructions: Now you can bold, italicize, highlight, and make bulleted or numbered lists in your assignment instructions. This allows you to create an even richer learning activity.
Turn-in celebrations: Celebrate the hard work a student has done when they submit their work for feedback. Look for more fun surprises in the coming months as we work to add additional ways to support student engagement, passion, and voice!
OneNote Class Notebooks helps teachers organize class content, create and deliver interactive lessons, provide feedback, and collaborate. Teachers can create a personal workspace for every student, a content library for handouts, and a collaboration space for lessons and creative activities.
Class Notebook Assignment and Grade integration support for iPad: Now teachers using the iPad can connect to top LMS and SIS partners to make assignments and submit grades directly from the Class Notebook iPad toolbar. Our list off supported partners is here: https://www.onenote.com/edupartners
Additional LMS/SIS Support: OneNote Class Notebook is expanding to integrate with even more LMS/SIS partners, including Capita SIMS, IST, and Focus Systems to save time in setting up and managing the classroom. For more info, checkout https://onenote.com/partners.
Stickers for Mac: A favorite of teachers and students alike, stickers are now available for Mac.
Microsoft Sway is a digital storytelling app that helps teachers and students create professional, interactive designs in minutes for images, text, videos and other media.
Rich Analytics: In addition to view count, teachers and students can view additional usage statistics including average time a user spends looking at a Sway, average percent of users who completed reading a Sway, and a breakdown of glanced/quick read/deep read.
Microsoft Forms helps teachers quickly create polls, quizzes, and assessments, and see results as they come in. Microsoft Forms is simple to use, works on any browser and device, and lets you assign points for automatic grading.
Collect more responses: Forms can now collect 50,000 survey responses per form.
Additional admin controls: Forms now has admin controls that allow IT admins to decide if Forms will only be shared inside the school's tenant or if they can be shared with parents and others without O365 accounts.
Office Accessibility – Microsoft offers best-in-class productivity tools with accessibility built-in to empower diverse classrooms. We're excited to share improvements coming in O365 that will make it easier for all to create accessible content and ensure diverse teams can collaborate inclusively. Read the full details here.
Accessibility Checker in Office 365 PC: Accessibility Checker in Office 365 PC will help content creators find new accessibility issues such as low-contrast text that is difficult to read because the font color is too similar to the background color.
"Recommended Actions" menu: We're also making it easier for you to fix issues by introducing a "Recommended Actions" menu within the Accessibility Checker. This includes recommending actions such as "Add a description", "Mark as decorative" and "Suggest a description for me" for a picture in a document that is missing alternative text.
Minecraft: Education Edition is a collaborative, and versatile game-based learning platform for K-12 and higher education. Educators can use Minecraft across all subjects to build 21st century skills like creativity, problem solving and computational thinking. Minecraft helps engage every type of student in an immersive and fun environment.
For Earth Day, Minecraft partnered with United for Wildlife to create this pack of five lessons and downloadable worlds on wildlife conservation called We Are The Rangers. Students can investigate animal trafficking, learn about DNA analysis and save endangered rhinos in Minecraft. The lessons span subjects, from writing prompts to math challenges.
Fantastic Mr. Fox comes to Minecraft in this new lesson and downloadable world. This standards-aligned lesson will engage K-5 students in writing, exploring and collaborative problem solving.
For the second year, Minecraft Education partnered with the Roald Dahl Imaginormous Challenge. The creative writing contest closed on May 1st, with more than twice as many entries as 2017. More than 31,000 students ages five to 12 penned stories for the chance to meet YouTube creator Stacyplays, and have their story built into a playable Minecraft world. Winners will be announced this summer.
Check out the new Activities of the Week on the Minecraft Education blog: every Monday, Minecraft Education posts a new build challenge for teachers. Recent activities include creating comic books, a color wheel, original pattern and even a campsite in Minecraft.
Windows 10 helps students and educators do great things. Windows 10 offers great features that help students create, express their thoughts, focus and learn more. It also includes features that give your teachers more time to engage with students and transform the classroom experience. Affordable devices, easy management, and automatic feature and security updates help lower both the fiscal and management costs on devices, enabling you to provide more students with access to technology.
Windows 10 April 2018 Update: Windows 10 is now running on over 500 million devices helping people learn and play. As a step forward on that journey, we're pleased to release the next wave Windows 10 innovation, the Windows 10 April 2018 Update. This update offers great new features that help students create, express their thoughts, focus and learn more. It also includes features that give your teachers more time to engage with students and transform the classroom experience. Affordable devices, easy management, and automatic feature and security updates help lower both the fiscal and management costs on devices, enabling you to provide more students with access to technology.
Timeline: We know that it can be difficult to get back to the stuff you were working on in the past. If you're like us, you might sometimes forget which site or Windows app you were using or where you saved a file. With Timeline, you can close apps without worrying and get right back to where you left off1 in Microsoft Edge or Office 365​​ on your iOS or Android device when you return to your PC.​​
Nearby Sharing: We heard you – you want to make it easier to share with classmates and teachers. You can now wirelessly share files to nearby PCs using the new Nearby Sharing feature. Send documents wirelessly to a nearby computer1 by simply clicking on the Share icon in Windows 10 apps, like Photos, Microsoft Edge and File Explorer. It's also quick and easy to share with Bluetooth if there is no Internet access.
Disclaimer: Sharing is only available between Windows 10 PCs. Nearby sharing must be enabled on both devices. Should be linked to all messaging.
1. As long as the student is in WiFi range.
Accessibility in Windows:  Windows brings innovation to all students, whether they have a disability or a learning preference because everyone learns differently. With a robust set of built-in and third-party accessibility features, Windows lets you choose how to interact with your device, express ideas, read webpages and PDFs, and get class assignments done. By leveraging the tools and features available for Windows, students can focus on comprehension and collaboration rather than focusing on the mechanics of interpreting or presenting information. These features will help students process and present information in ways that are easiest and most efficient for them based on learning needs. Students can also use eye control1 or voice dictation2 for authoring and editing documents in Windows. A new Text Predictions feature offers word suggestions as students are typing – a great tool for English language learners or anyone who would benefit from a little help with their writing.
Text predictions: Now every student can enable text suggestions to get help constructing sentences. As they type on a keyboard, they'll see three suggested words and choose a word. This feature is great for English language learners – and anyone who'd like a little help with their writing. Currently an English-US only feature.
1 Text Prediction sis a platform level feature. Anywhere you have your cursor in Windows, text predictions should work.
2 Must opt in to the feature – easily done by typing "text predictions" in the start menu and turning it on for hardware keyboards. En-US only.
Dictation: Natural computing experiences enable us to speak directly to our devices to accomplish tasks, without typing. One way we've done this is with Dictation. It's now easier than ever to take a note or write a paper, with just your voice using your device's microphone. With your cursor in any text field either in Windows 10 or in an app, simply press Win + H and start talking.
Focus Assist: It's hard to stay on track, as we're often interrupted during the school day. Focus Assist helps students focus and learn with the ability to easily block notifications on their PC at times when they need to be more productive. In an NPR article, 75 percent of teachers surveyed said students' ability to focus on educational tasks has decreased. 1 Every day teachers are finding it increasingly important to deliberately stretch students' ability to focus. Without that ability, students may find it harder to tackle the rigorous work being asked them at advancing levels.
1. https://www.npr.org/sections/ed/2018/01/24/578437957/laptops-and-phones-in-the-classroom-yea-nay-or-a-third-way
This can be configured on a device level.
See greater contrast: Microsoft Edge Dark theme has darker blacks and better contrast across all colors, text, and icons, making it easier for many people with accessibility contrast issues to navigate. It also can prevent eye strain, generally, especially when you're working at night.
Click with your eyes: Improvements in the eye control experience include easier navigation with the addition of scrolling and direct left and right click capabilities, acceleration to common tasks such as Windows Start and device calibration, and the flexibility to pause eye control. Eye control is still in preview, and we welcome your feedback to help improve the experience.
Microsoft Photos App makes it easy to tell stories with photos and videos. There is a built-in video editor, making it easy for you and your students to create movies using photos, video clips, music, 3D models, and Hollywood-style special effects. Whether it's a group history project, a lab report, or a music video just for fun, the Photos app makes it easy to quickly assemble content, add titles, drop in music, and enhance your story with special effects.
Special effects on photos: Special effects aren't just for videos anymore. Now you can add special effects to your photos and photo stories. Doing a report on coral reefs? Add an underwater effect to your scene. Traveling back in time to describe the fall of the Roman Empire? Our sci-fi portal will take you there. Special effects feed creativity and can bring a story to life.
Add 3D models and props: The Photos app is now connected to Remix 3D. Browse the Remix 3D community to find 3D models of everything from a cutaway of a volcano and a model of a cell to a cadre of emoji's and some incredibly detailed dinosaurs. Now you have a nearly unlimited supply of props, models, and creatures to enhance your storytelling.
Let the Photos app make your video for you: We know you don't always have time to create videos yourself. Why not let Photos do the work for you? Automatic movies are a great way to share photos from an event or give parents a peek into the classroom without having to plan and edit the video yourself. If you've already made an album, you're done. Watch your movie and Remix till you find a version you love. Or, simply search by date, place, person, or objects in the scene. You can create a video, album, or auto-movie directly from your search result.
Choose a Star: Making a video for a classroom update, the big game, or to show off a project from the science fair? Let the Photos app create an automatic movie for you and then use the "Choose a star" feature and the video will focus around that special person.
Love the letterboxing or zoom to fit? Do your students like Hollywood-style letterboxing or prefer that their content fills the screen? With the new Resize feature in Photos, students can choose to keep their media letterboxed or zoom in and remove those black bars so their photos and videos fill the screen. Students can also choose from 4:3 or 16:9 aspect ratios, and portrait or landscape videos.
With 3D in Windows 10 students can experience and create amazing things in a new dimension. Here you have the most complete collection of 3D tools and resources available – everything you need to create and share in 3D on our most affordable devices. This is especially important because 3D and spatial thinking have been shown to increase test scores and attentiveness. Get started now and see how 3D brings your ideas to life.  ​
3D Animations in PowerPoint: With your Office 365 subscription, you can add 3D animation to static 3D models you've added to your PowerPoint. Just click on Animations and choose from an auto-rotating Turntable to Jump & Turn to give movement to your 3D models
Edit your snips directly in Paint 3D: With the new "edit in Paint 3D" button built into the Snipping Tool, you can take your snip to the next level via Paint 3D. Move (or remove) objects with Magic select, augment and annotate with realistic brushes, bring in 3D objects from Remix 3D, and more.
Microsoft Edge is the faster, safer browser designed to help achieve better learning outcomes.  With Microsoft Learning Tools features built-in, students can become more independent readers across books, websites and PDF files.  Only Microsoft Edge has built-in tools to make it simpler for students to collaborate, research and organize their online content.  Updates below coming to Microsoft Edge in the Windows 10 April 2018 Update.
Syllables and Parts of Speech for Microsoft Edge using the Grammar Tools button: An addition to the Immersive Reader functionality in Reading View and ePub books in Microsoft Edge, Grammar Tools can break the words on the page into syllables, as well as highlight different parts of speech such as nouns, verbs, and adjectives.
Full-screen reading experience: Take Books, PDFs, and Reading view pages full-screen, for a distraction-free reading experience. To enable full-screen reading, you can click on the double-arrow icon on the reading bar, or in the more menu or hit F11 on your keyboard.
Mute-a-tab: Simply click the audio icon or right-click the tab to mute and unmute the tab that is playing sound.
Clutter-free printing: Print web pages from Microsoft Edge without pop-ups and other unnecessary clutter. Enable the "Clutter-free printing" option in the print dialog and print only the content you want.
Microsoft Edge Tips: Keep up with what's new and how to use Microsoft Edge features and functionality with simple to follow animations and instructions https://microsoftedgetips.microsoft.com/en-us.
If you focus on IT:
School Data Sync (SDS) simplifies class creation and management in Office 365. SDS reads from your Student Information Systems (SIS) and creates classes and groups for Microsoft Teams, OneNote Class Notebooks, Intune for Education, and third-party applications. Best of all, it's free!
Performance Improvement: A series of targeted performance updates, to improve syncing large volumes of school data into Azure AD. These improvements will provide true delta sync processing for daily syncs, and back-end partitioning of large data sets. SDS Customers may see improvements in daily sync times.
To learn more about Microsoft Education and our tools and technology that help foster inclusion and support personalizing learning for every student, click here.