Beat the back to school blues with student hacks you can use all year long
Kick up your coursework a notch and get (virtually) organized with this rundown of back to school tips, tricks, and time savers.
But first things first …
Free stuff 101: Did you know that any student — yes, you — can use apps like Microsoft Word and PowerPoint for free right now, no strings attached?
If this is news to you, head over here, plug in your school email, and get started.
From your homepage, you'll be able to find and check out the apps mentioned below. Others require no log-in or account at all.
Click to navigate to sections:
First, take files with you, wherever, with OneDrive
Once you start using apps like Word or Excel Online, your documents will save automatically to OneDrive. OneDrive = the cloud.

Now, you'll be able to open your documents anywhere you have an internet connection: at the computer lab, on your home computer, or even on your phone.
Try it: Log into Microsoft Office and select OneDrive. Then, select +New.
No more lost work. Phew.
Go beyond the basic Word doc with sharing, citations, and talk typing
First, pick a template.
Taking notes in class? About to dive into that five paragraph essay? Try a template. Check them out in Word Online.
Got projects? Invite someone to co-edit with you
To share, select the Share button in the corner of your Word doc. Now your school project buddies can see what you're working on, add their edits, and write with you. No need to chase each other down over endless emails and texts.
Write it. Cite it.

Whether your paper needs to be in MLA or APA, you can cite as you write with correct citations that pass the teacher check test.
Try it: Select References > Insert Citation in Word desktop.
Type with your voice.
Start brainstorming or "jot" notes just by talking.
Select the Dictate icon 
 in the Home tab and wait for the red light to appear. Then, begin speaking.
Writer's block, begone.
Present with panache using Sway
When you want to do justice to your beauteous presentation or report, look no further than Sway. You can create your own, adding blocks of image and text. Or – even easier – grab a template from the Sway template library (like this one), plug in your own content, and voila!
Share the link to your Sway to view on any browser, or paste into a OneNote page to embed.
Save whiteboard notes for later with Office Lens
Ever struggled to capture a whole whiteboard of notes on one measly notebook page? Snap a photo on your phone and convert what you read into a Word document to study later.
Simply head to your phone's app store and download Office Lens.
Extra credit: Hear the whiteboard you just saved read aloud with Immersive Reader inside the app.
Read books and articles online … and out loud
First, open class readings like articles, textbook chapters, and PDFs in the Microsoft Edge browser.
Then, turn on reading view to look through your homework in a clean, distraction-free view. Use the highlighter and note-taking features just like you would use stickies and pen in a regular old book.
Try it: Select the Settings icon (it looks like three dots) and then Books.
If you learn better hearing texts read out loud, test drive Immersive Reader. You can adjust font size, colors, and spacing to read in the way that feels best to you. Plus, get extra grammar review by turning on the Parts of Speech tool. With one click, highlight every noun, verb, adjective, and adverb in your text.
If you're using a Windows 10 device, you already have the Microsoft Edge browser, but no sweat if you don't have it yet. You can download it here.
Immersive Reader is baked into many other apps you use, too!
Pilot your own research study with Microsoft Forms
Need to collect data, survey the class, or just check when everyone is free to hang out? Try making a simple poll with Forms.
Customize your form's questions before using the Share button to send it out as a link, email, or QR code.
Extra credit: Make the form open to people outside your organization. Now, anyone can respond—not just other students at your school.
Gather scholarship and college application info in OneNote
It can feel pretty overwhelming to start (or finish!) the college search and application process. From letters of recommendation to deadlines, there's a lot to keep track of, draft, and save.
Bright idea: Make a OneNote just to collect your work, research, and requirements.
Use sections to organize by school, or just by what you're working on.
Embed documents you're referencing, official PDFS, and communication. (Insert > File Printout)
Add links or copy and paste anything from the web—no need to remember where you found it because OneNote will automatically save the source with your image or text.
Validate your math skills in a few ink strokes
Draw right on a Word or OneNote page and conduct some low-key math wizardry at the same time.
Draw or write your equation, draw a lasso around it, and press the Ink to Math button in the Draw tab. Now you can check your work in real-time and instantly create factors and 2D graphs, plus other neat tricks.
Extra credit: Demonstrate your skills even further using Ink Replay in Word. Write out your equation in ink, then select the Ink Replay button to watch your whole equation instant-replay, kinda like a sports highlight reel…but with math.
Great for showing the steps you took to reach the answer and presenting your work to fellow students. ​​​​​​​
Need to work together? There's a team for that
Let's say you're working on a group project where a to-do list isn't quite going to cut it. You need to be able to quickly trade ideas, share files, and post schedules. Or, you're heading up a study group, club, or school team and need an easy way to put everyone on blast.
Solution: Make a team in Microsoft Teams and invite other students to join you. Just open the app and select Join or create a team.
Extra credit: Once you make your team, share a simple join code to add your friends, instantly.
Wow the class with 3-D models in PowerPoint
Select Insert > 3D Models to add a model like this you can rotate.
That's all you need to take any presentation into another "dimension." (School puns optional, but strongly encouraged.)
Get organized with Back to School planning templates
Getting organized means something different for everyone, but if you're a student who thrives on neat-and-tidy documents, color-coding, and more, check out Microsoft's library of Back to School templates.
Each one is built to work with one of the Office apps, like this class schedule planner you can build in Excel.
All you need is your data. Office can handle the rest.
Find good sources seamlessly with Researcher
The next best thing to a personal librarian is Researcher—a button you can find in the Insert tab in OneNote or in the References tab of Word on your desktop.
Researcher partners with search superstar Bing to comb the web and deliver high-quality research sources directly to the side of your page.
Search people, places, or ideas, and then sort by journal articles and websites. Selecting the plus sign on any source adds it instantly to your page with a hyperlink to send readers straight to the original.
As you go, Researcher saves a record of what you searched for. Just select My Research to see the complete list.
While no tool replaces your own analysis, Researcher gives you a head start on collecting sources and ideas you can return to again and again in the writing process.
Unleash your inner unicorn with #MicrosoftEDU stickers and gifs
So, we know that was a lot of school to think about in one sitting. When you need a brain break, reach for a gif or scribble a quick doodle in a sparkly pen. We don't have to explain to you why that helps relieve stress, right?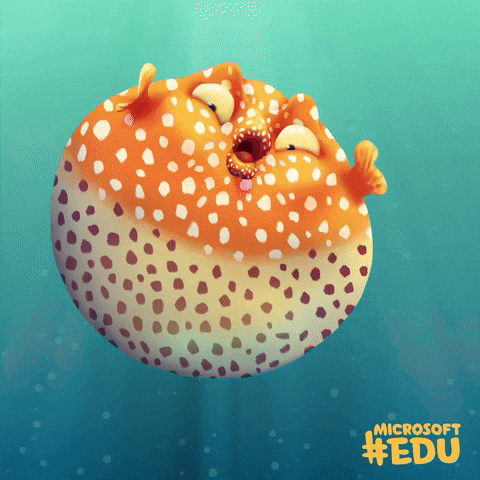 Happy student-ing! We know you've got great things up your sleeve.
We share more tips, tricks, and ideas on our help page, built just for you.
Let us know how you're handling back to school with #MicrosoftEDU.