Partner Spotlight: Pear Deck boosts student engagement and participation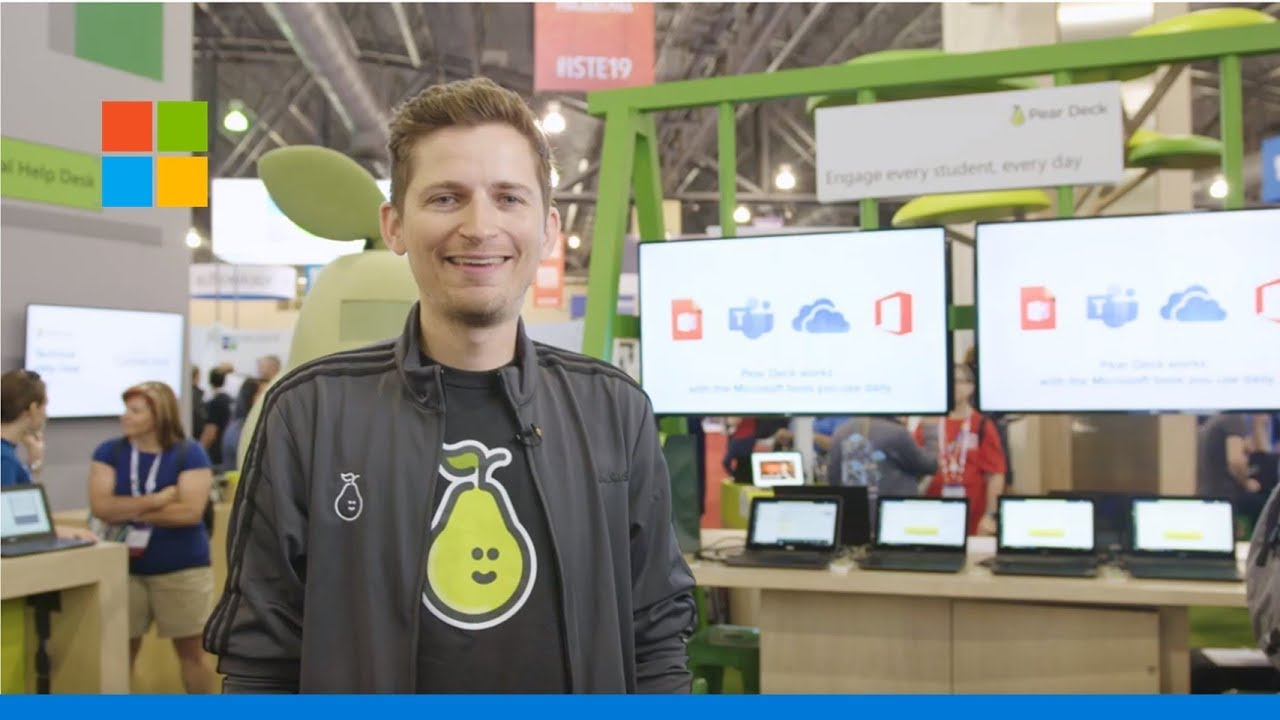 Average full article read:
At this year's ISTE conference in Philadelphia, we proudly featured several of our partners in the Microsoft Education booth. These are organizations that share our mission of working to empower every student on the planet to achieve more. Throughout the summer and into the fall, we'll be highlighting some of those collaborations here.
Today's spotlight is on Pear Deck, a new Microsoft Education partner and student engagement platform that is transforming the classroom by encouraging active learning and full class participation. Their mission is to help teachers deliver powerful learning moments for every student, every day.
With Pear Deck, teachers delivering a lesson give a prompt or ask questions, and the students then respond on their devices. Their answers appear on the teacher's dashboard, and the teacher can share them with the class if he or she chooses. Students' responses remain anonymous on the projector, so students can share ideas without fear of being "wrong."
This technology helps create a student-centered learning environment, ensuring all kids are participating, and gives teachers timely information about how well each student is grasping the material being taught. One of the best ways to use Pear Deck is to transform a PowerPoint lesson by making it more interactive. That way, the lesson goes from being a traditional teacher-driven lecture to a rich discussion with full-class engagement and participation.
Some specific benefits to teachers from the new partnership between Microsoft and Pear Deck include: access to tools for designing interactive lessons with embedded formative assessments using PowerPoint online; the ability to share Pear Deck lessons as PowerPoint files from OneDrive; the ability to run a Pear Deck session from within Microsoft Teams; and having unlimited storage in OneDrive.
Aaron Sweet, a Microsoft Innovative Educator and technology and integration coach at Newark Central School District in upstate NY, brought Pear Deck into schools toward the end of last year.
At ISTE, reflecting on a high school earth science lesson he observed, Sweet said, "They were talking about sedimentary rocks and different types of rock formations. It was amazing to see how they were interacting in such an engaged way with the questions in Pear Deck and using a variety of response types, like drag-and-drop and inking (drawing), to answer. It was such a quick and easy way to assess the students and encourage discussion."
Pear Deck co-founder Riley Eynon-Lynch, a former high school science and math teacher, spent time in the Microsoft booth at ISTE, walking visitors through Pear Deck and its integration with Microsoft tools. He said, when developing Pear Deck, he wanted to find a way to use technology to foster human relationships in school and spark powerful learning moments.
If you couldn't be there in person, check out the video above to hear Riley in his own words.
To learn more about our partnerships, visit aka.ms/eduapps.
We welcome your feedback
Let us know if you enjoyed this article and we'll share similar content