Partner Spotlight: Sphero helps teachers bring real-world lessons to the classroom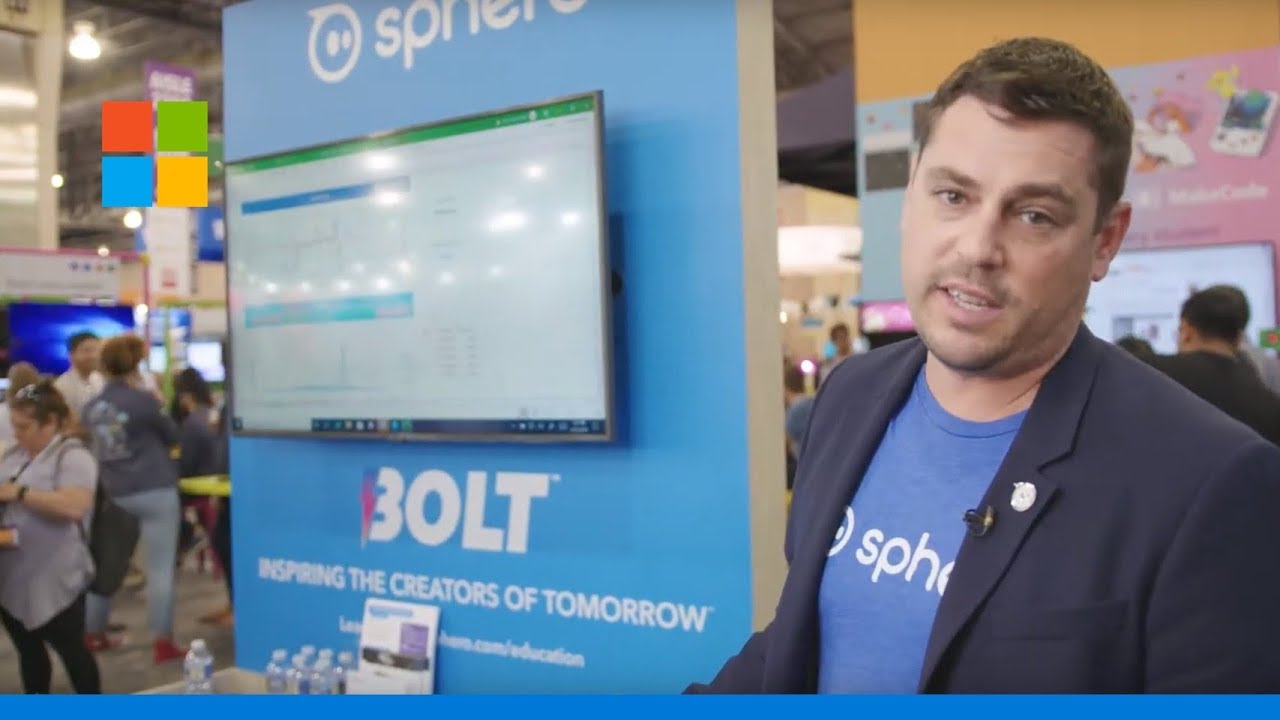 Average full article read:
At this year's ISTE conference in Philadelphia, we proudly featured several of our partners in the Microsoft Education booth. These are organizations that share our mission of working to empower every student on the planet to achieve more. Throughout the summer and into the fall, we'll be highlighting some of those collaborations here.
On certain days of the school year, Lauren Marrone's high school physics class transforms when students turn their self-programmed, ball-shaped robots into boats using materials like hot glue, Styrofoam and popsicle sticks. The teens from Dallas, Ga., then drop their creations in a makeshift pool and race them. Fun and games? Perhaps, but Marrone says her students are also learning about buoyancy, forces and motion with the help of Sphero, the creator of programmable robots and educational tools.
"They're learning key scientific principles, coding, designing and engineering, and they love it," says Marrone, who helped educators try out the robots in the Microsoft booth at ISTE.
Students program and control the robots using a Sphero app available in the Microsoft Store for Education. Recently added is the capacity to link Sphero with Excel Data Streamer, a Microsoft Excel add-in that provides students with a simple way to bring data from the physical world into and out of Excel. The update means students can capture, visualize and analyze real-time sensor data in Excel spreadsheets.
"I'm always trying to help my students analyze data and improve their critical thinking. This helps. Now when they design something, we can bring in this data to support their claims," says Marrone.
Melissa Gomez, Vice President of Education Partnerships at Sphero, has seen students transform Sphero robots into cars and run crash-test scenarios. Building Excel Data Streamer into those experiments will better allow students to think through real-world problems like setting speed limits and designing safe cars in a methodical way, she said. "When you add Data streamer you can mathematically and statistically see the effects of an experiment," she said, noting this powerful learning opportunity.
But Gomez said that the biggest benefit to this hands-on approach to STEM learning is the way kids light up when they use Sphero in the classroom. "The level of engagement is through the roof," she said.
At Microsoft, we're committed to making sure all students achieve more. And, as a partner, Sphero supports this mission by helping foster creativity, collaboration, computational-thinking and problem-solving in young people. The Sphero team also supports teachers by sharing STEM learning activities and lesson plans with them and is coming out soon with a supplemental curriculum, Computer Science Foundations.
Teachers can use Sphero across grades, as it's designed with student progression in mind. Marrone recently introduced it to her mother, who teaches fifth grade. "Her students just picked it up so naturally," she said. "In my case, too, my students teach me stuff all the time. We'll try something new, and they'll say, 'Did you know the Sphero can do this or that?' They'll explore and learn so much and are so excited by it all."
It's precisely the kind of student-centered learning we want for all young people. To learn more, check out the video above from our booth at ISTE.
You can learn more about our partnerships 
here
.
We welcome your feedback
Let us know if you enjoyed this article and we'll share similar content