Partner Spotlight: Collaboration with Kano produces new device; helps develop future-ready skills in students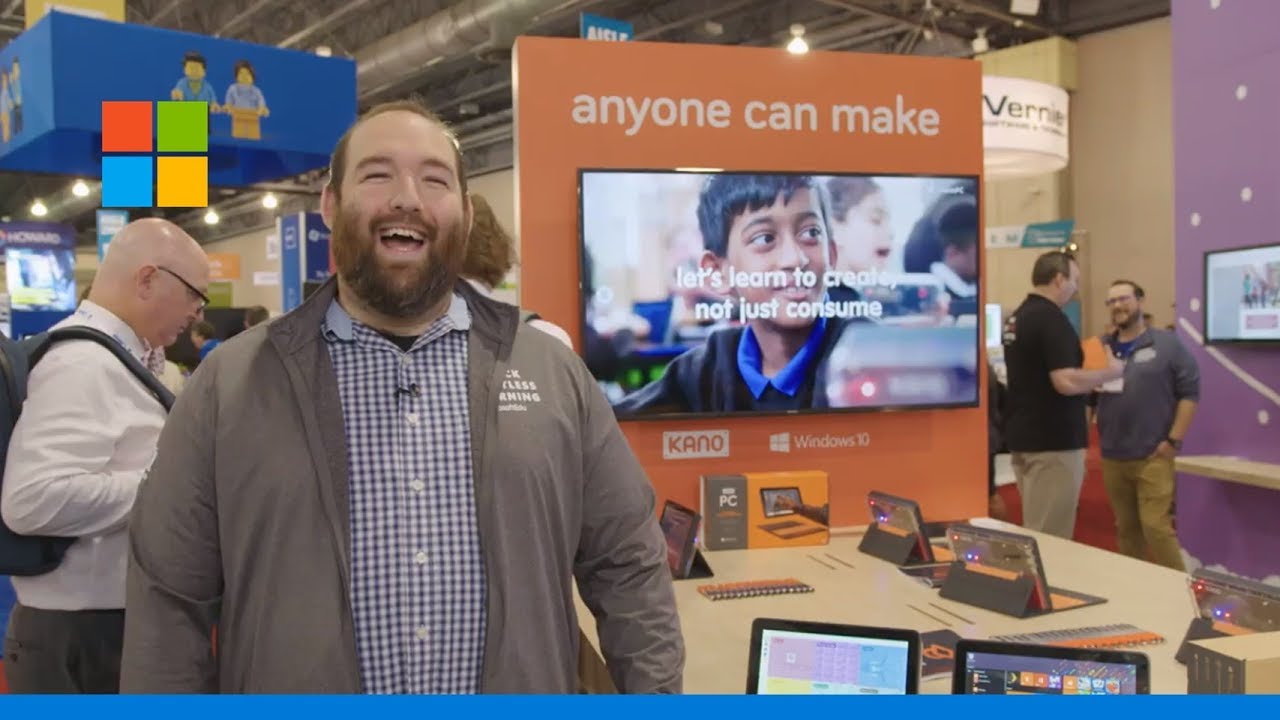 At this year's ISTE conference in Philadelphia, we proudly featured several of our partners in the Microsoft Education booth. These are organizations that share our mission of working to empower every student on the planet to achieve more. We're highlighting some of those collaborations here.
On a typical day, a visitor to Allen Tsui's classroom at Willow Brook Primary School Academy in East London might see students ages 9 to 11 taking computers apart and putting them back together, writing lines of code, or using laptops with bright orange keyboards to complete core academic assignments.
Tsui and his students have been among the first to use the new Kano PC—a build-it-yourself touchscreen computer kit, powered by Windows 10 in S Mode. It was created in collaboration between London-based Kano, which makes creative coding and computing kits for beginners of all ages, and Microsoft Education.
Each kit comes with a step-by-step storybook which guides students through the build and a magnifying lens to help them see the components—important tools in Kano's quest to demystify technology and empower students to think like computer scientists. "This is giving them that exposure to physical computing," says Tsui. "It's giving children the chance to handle components and put them together and understand how the components interact with each other."
Of course, the learning doesn't stop there. After students assemble their Kano PC, they can use it to code. Tsui is among the educators who worked with Kano and Microsoft Education to develop hundreds of hours of highly accessible curriculum materials that teachers can use along with the Kano PC to introduce computer science to students in an engaging way.
Tsui's students are enthusiastic about coding with Kano, and he says it's fostering collaboration in the classroom. "When one student conquers one of the basic coding tasks, they get inspired to do more, and they share that block of coding with one of their friends," he said.
Tsui says bringing the devices and related curriculum into his class has helped develop a broad set of future-ready skills in students. "The whole process of coding fosters resiliency, such as when students have to debug lines of code, for example. That stretches their interpersonal skills, and it's a real test of stamina and resilience," he says.
The Kano PC runs on Windows 10 in S mode and comes with a suite of creative coding tools, including Kano Code and Make Art, and is compatible with the Office Suite, Minecraft: Education Edition, Microsoft Teams and more.
The device is attracting a buzz. It recently topped Wired's list of the best computers for introducing kids to computer science. It will also be featured in an upcoming episode on the "What's inside?" YouTube channel. The episode will explore what's inside a vintage Toshiba laptop and compare it with what's inside a Kano PC.
For more on our work together and this exciting new tool for students, check out the video above in which Allen Tsui and some of our friends at Kano share more details.